Finally, the
Pacquiao vs. Clottey fight
had ended! I wasn't really able to watch its live streaming or even the one showed in GMA. Because my parents and I together with my boyfriend went to Max's Market-Market,
Taguig
to have a kinda late lunch for pre-birthday celebration of my mother.
I just watched the fight through YouTube and I could say that it wasn't a good/fair fight. Coz it seems that for the whole 12 rounds of the game, only our boxing champ
"Manny 'Pacman' Pacquiao"
is the one throwing punches at Clottey while Clottey (the so-called "
The Grand Master
" … hahaha!) kept on covering his face, afraid that his ugly face might even be uglier if Pacquiao hits it … hahaha! (So mean of me. LOLz) Actually my boyfriend jokingly told me that the reason why Clottey did that is because he still wanted to join "Mr. Pogi" contest. Hehehe!!!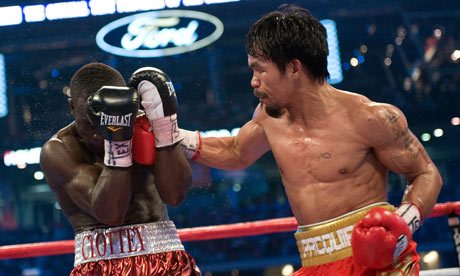 Kidding aside, I never really enjoyed watching the game. As for me, it lacked suspense and wasn't as interesting and flashy as his fight to "
Hatton
" and "
Dela Hoya
". This game is just one-sided or one-man fought. Because all Clottey did in the ring was pure defense — a "
pick-a-boo
" style (covering her face). It's like he forgot that in this
sport
,
DEFENSE doesn't earn you points, only PUNCHES does!
To Joshua Clottey:
you should learn that ONLY PUNCHING earns points for this game and not the "Pick-a-Boo" style.
=)
To "Manny Pacquiao"
a big Congratulations to you — you did it again! So Proud to be PINOY! Hope Mayweather, Jr. will win in his fight with Mosley. So that, the next fight will be "Pacquiao vs. GAYweather … ooops, I mean Mayweather. Hehehe! Perhaps Mayweather is more afraid to fight Pacman this time.